No Panic Mechanic – Mobile Marine Services
How to find your Engine Serial Number.
Click on your Brand below for guidance, or see the images below.
If possible send us a picture of your entire data plate.
Yamaha see below
Mercruiser see below
Mercury see below

Mercruiser Sterndrive
The Engine Serial number is located near the
starter at the Flywheel housing, the Rocker
Arm or Flame Arrestor Cover.
The Sterndrive Serial number is located on
the Upper Driveshaft housing Starboard side
or on the Back of the housing.
The Transom Serial number is located on the
Upper part of the Transom Assembly
---
Mercury/Mariner Outboard
You can find your Mercury outboard serial number and model number on an ID tag on the mounting bracket, or in some cases on an engine block freeze plug.
---
Yamaha Outboard
The ID plate/sticker should be somewhere above the waterline on either the port or starboard side of the bracket. Take a picture of your outboard's ID plate/sticker, or write down the ID's information so you can quickly reference it whenever you need replacement parts for your Yamaha outboard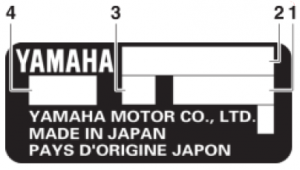 Serial Number
Model Name
Motor Transom Height
Approved Model Code
---
Johnson Evinrude
Your Johnson outboard model number can usually be found on the nameplate located on the motor or the mounting bracket. The nameplate should contain a model number and a serial number. The model number will identify the year and certain details of that motor.
1980-Present: Johnson outboards from 1980 to present use a model number that will indicate the year & features of that motor. See the model number codes here.
Pre-1980: Johnson outboards prior to 1980 do not have a consistent model number code. See the model number information below.